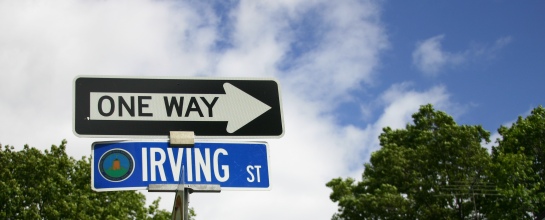 History - Irving Street
This site is a collection of stories and historical information about Irving Street in Somerville. If you have content that you'd like to see added, please contact or email Erik Nygren (#60) <webmaster@irvingstreet.net>.
Photos
Interesting Stories
Irving Street was created in its present location sometime between 1852 and 1874. Willow Street in Somerville was originally named Irving Street, and was named Irving Street as of at least 1852.
One of the earliest references to Irving St is on the March 1872 "Plan of Land in Somerville belonging to Jesse Simpson". Irving St first appeared in the listing of streets in the 1874 Somerville City Directory. References in Somerville Annual Reports:

"Irving/From Holland to Broadway 585 feet." (page 237, City of Somerville Annual Report, 1886.)
"[Irving St. was] partially graded and macadamized from Holland St. to brow of the hill."(page 269, City of Somerville Annual Report, 1888.)
In the Annual report for 1890 are details of the construction of sidewalks on Irving St., including cost and materials used.

Much of the land where Irving Street exists was once a farm and gravel quarry owned by Jessee/Jessie/Jesse Simpson. Jesse's wife (and a daughter) were named Paulina, hence the name of Paulina Street (which was previously named James Street).
The origin of the name for Irving Street is not confirmed. One possibility is that it was named for Irving Levi Russell (bio and photo). Irving L. Russell was President of the Board of Alderman during the year (1886) when Irving St was accepted as a city street. Various members of the Russell family owned quite a bit of land in the area, including the area that is now Teele Square.
Howard Petrie lived at #49 Irving Street while in High School in the 1920's. In his day, he was a well-known radio announcer and later a film and television actor.
Historical Maps
The 1852 maps below have been overlayed onto a recent street map for correlation purposes. (Note that the full-sized versions are large files.)
| 1852 (Davis Sq area) - [8MB] | 1852 (West Somerville) - [24MB] |
| --- | --- |
| | |
These maps below (from 1874-1995) are from a variety of sources have been assembled and rotated/resized to allow for easy comparison. You may also go to the Map Comparison page.
1874
1884
1895
1900
1922
1934
1995
These plot surveys are referenced from most Irving Street deeds:
| 1872 | 1897 |
| --- | --- |
| Plan belonging to Jesse Simpsion made by W.S. Barbour and A.Hodges, Civil Engineers, dated March 6, 1872, recorded in Plan Book 21, Plan 44 | "Plan of Lots in Somerville belonging to Margaret A. Simpson" dated March 1897, Charles J Elliot, Engineer and Surveyor. Registered in Plan Book 103, Plan 6. |
| | |
Old Somerville Directory Listings (Residents)
Somerville Directory listings from the Somerville Public Library:
Stories from Residents
Helen moved to Irving Street Nov. 30, 1964. At that time there were two grocery stores - one on the corner of Irving and Broadway where the barber shop is now and the other on the corner of Irving and Holland Street where Mario's is now. The one on Broadway carried mostly Italian foods while the Holland Street store sold just about everything. The Holland Street store also delivered and the delivery was in a large wooden cart.
---
Photos and maps here are copyrighted by their respected owners.
Erik Nygren (webmaster@irvingstreet.net)
A special thank you to Russell Family researcher Kevin J. Bochynski for his assistance.